Blue Pearl Sportfishing Charter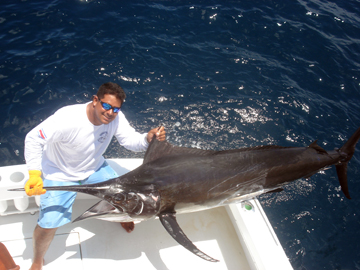 Blue Pearl Sportfishing Charter is located in Quepos, a small tropical town in Central Pacific of Costa Rica. The ocean surrounding Costa Rica is flourishing with hundreds of species of fish providing the fishing charters an excellent opportunity for developing recreational sportfishing tours. Blue Pearl Sportfishing Charter has been in the field for more than 10 years and they are experts when it comes to fishing in southern Pacific coast. With the help of Blue Pearl Team and their vast knowledge, catch and release billfishing, deep sea fishing, conventional tackle fishing, light tackle angling, fly fishing and offshore and inshore fishing of many species become possible throughout the year. During offshore fishing, you will come across Blue Marlin, Black Marlin, Striped Marlin, Sailfish and if you are lucky, you can also catch some Mahi Mahi, Yellowfin Tuna, Wahoo, Roosterfish, Snappers and lots of more. Blue Pearl Sportfishing Charter has a fleet of high quality, fully insured boats which are rigged with latest electronics, cell phones, GPS, VHS radios, fishing gear, and other equipment. The captains, first mates and other staff are bilingual and cordial. They do their best to make the travelers feel at home, especially those who are fishing for the first time. With Blue Pearl, traverse the central Pacific coast from north to south and experience fabulous fishing.
Blue Pearl Sportfishing Charter Boats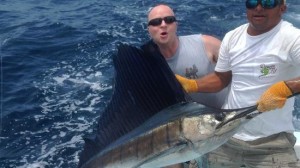 Blue Pearl I – 28′ Trojan Fly Bridge
Fishing excursion in Blue Pearl I – Trojan Fly Bridge is bound to be an awesome experience. The company offers both inshore and offshore fishing tours of Full Day that lasts for 8 hours, Three Quarter Day which is 6 hours long and a Half Day trip which is 4 hours long. The rates depend upon the duration of the trip. The boat can take up 2 to 4 people. The trip includes a free lunch for full day and three quarter day trip and free snacks for half day trip. The clients are also offered refreshing soft drinks, spring water, fresh fruits, and cold beers. The company will provide bait and fishing equipment for light tackle and conventional fishing. Guests who are looking for a fishing license will be required to pay a fee of $15 per month or $30 per year. Make sure you book in advance and read the reservation policy thoroughly.
Blue Pearl II – 32′ Hatteras Open Sport-fishermen
Fishing experience in Blue Pearl II is a more a lavish one. It can accommodate 2 to 6 people.
Contact Blue Pearl Sportfishing
>Location: Quepos, Costa Rica
Website: http://bluepearlsportfishing.com/ 
Phone Number: (506) 2777-2516
Fax: (506) 2777-7350
Email: bluepearl@racsa.co.cr
Facebook Page: https://www.facebook.com/pages/Blue-Pearl-Sportfishing/119217128093235
Blue Pearl Sportfishing Charter