Bushwacker Sportfishing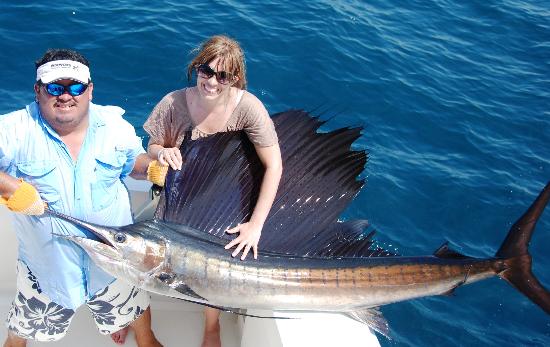 Bushwacker Sportfishing is located in a tropical beach town, Playa Flamingo in Costa Rica. After a worldwide travel and fishing in numerous platforms, the owner of Bushwacker Sportfishing, Captain Skeet Warren, decided to settle and run his own fishing charter in Costa Rica. The captain has been fishing all over the globe since 1981, and he chose Costa Rica as one of the best fishing destinations! In his opinion, the tropical country is amazing for marine water angling. The country has a warm climate throughout the year, boasts terrestrial and aquatic diversity, white sand beaches and has Pacific and Caribbean for its borders. The Pacific Ocean surrounding Playa Flamingo is renowned for its underwater creatures. From migratory humpback whales, friendly dolphins, imposing sharks to lazy sea turtles, manta rays and different tropical fish, the ocean has everything to offer. Besides recreational fishing and marine animal watching, tourists can enjoy sailing, sea kayaking, surfing, snorkeling, scuba diving, horseback riding, bird watching and plenty of more exciting activities. There are many accommodations and restaurants in the town. If clients prefer, the staff at Bushwacker Sportfishing will happily reserve a room for them. They also help with transportation! At Bushwacker Sportfishing, have an adventurous and satisfying fishing journey with your loved ones.
The Boat at Bushwacker Sportfishing
Captain Skeet has run many boats during his worldwide fishing expeditions and the boat, The Bushwacker, has turned out to be his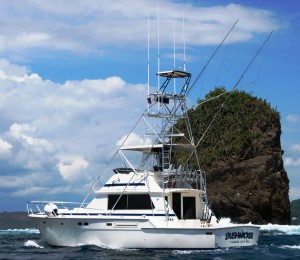 favorite. The Bushwacker is a 42 ft Bertram powered with twin Cummins QSM-11 four-stroke engines, new 9.5 kw Phasor generator, Marine Metal Fabricators Tuna Tower, and a new watermaker. The boat is built with the sole purpose of fishing in mind. It offers a quick, stable and comfortable ride and thus allows the clients to fish easily. The boat is air conditioned, with a spacious cockpit with enough room for fish fighting and plenty of shade. It is rigged with high quality electronics such as 3 VHF Radios, 2 depth sounders, 2 GPS, and 2 water temperature gauge. The world class security system consists of a life raft, 10 life jackets, fixed and portable fire extinguishers, and 2 bilge pumps. The interior of The Bushwacker is classy and elegant. There is a huge refrigerator with a freezer, ice-maker, microwave, stove, a marine washroom with hot water shower, a stereo system and a television set with a VCR. The fishing tackle is provided by the charter. It is from a recognized company called Shimano. The crew on the boat is highly trained with vast knowledge and experience of fishing in the Pacific. Bushwacker Sportfishing promises their clients an ultimate sportfishing venture! Grab your camera and shades, jump aboard and fish with Bushwacker Sportfishing!
Offshore and Inshore Fishing with Bushwacker Sportfishing
Bushwacker Sportfishing conducts both offshore and inshore trips. During the offshore tour, marlins, dorado, mahi mahi, tuna and other game fish are targeted while during the inshore trip, roosterfish, amberjack, spotted mackerel and wahoo are caught. They offer full day, half day and three quarter day charters. Depending upon the customer's interests, the trips are modified. Clients can book a tour in person, by making a call or online through the company's website!
Contact Bushwacker Sportfishing
Location: Playa Flamingo, Costa Rica
Website: http://www.bushwackercr.com/
Phone Number: Costa Rica Cell 011-506-8-380-0167 or US rings in Costa Rica 1-706-993-3959
Email: captskeet@bushwackercr.com