Hilton Papagayo Costa Rica Resort & Spa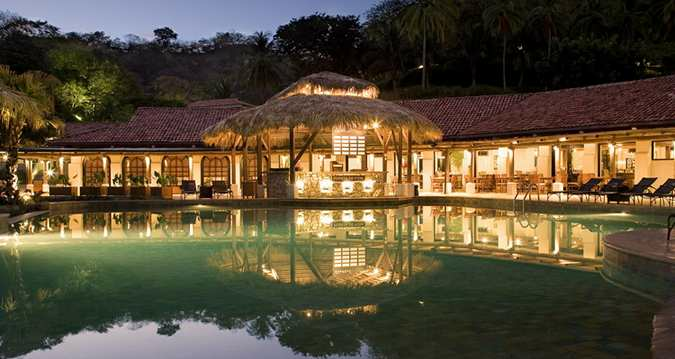 Hilton Papagayo Costa Rica Resort & Spa is an exclusive luxury resort located in a remote coast of Pacific Ocean at the Gulf of Papagayo in Guanacaste Province. Hilton Papagayo Resort is a short drive away from Liberia International Airport and from San Jose; it takes a thirty minutes plane ride which prove to be quite convenient for guests. The resort is in the midst of oceanic charm, pristine beaches, scenic jungles and their tropical lushness making it an inclusive place for a lavish vacation. The resort is nearby various sightseeing and adventure spots. People who are into sports, eco tours and wildlife will find the Hilton Papagayo a perfect opportunity to explore the tropic wonders of Costa Rica. Take a walk in immaculate gardens, have a picnic on the white sand beach, revive yourself with a spa treatment, take a dip into a cool swimming pool and sip on a beverage, Hilton Papagayo is a home away from home. Let yourself be pampered on your tropical vacation in Costa Rica.
Accommodations at Hilton Papagayo Costa Rica Resort and Spa
Hilton Papagayo Resort features guest rooms, suites and accessible rooms. Each room is designed with comfort and elegance in mind.
Guest Rooms
The guest rooms or bungalows ooze charm in all aspects. The beachfront rooms are superb for all sorts of vacations. They boast seclusion, lavishness and panoramas of the ocean and tropical gardens ahead. Enjoy an intimate time on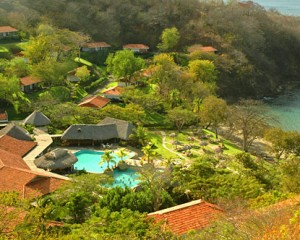 the private terrace while gazing at the emerald water of the gulf. The bungalows have a king size bedroom and a double room which makes it perfect for a small family. The bungalows are furnished with excellent teak wood furniture. There is a lounge, a balcony and a private swimming pool. Each bungalow is equipped with LCD television set, activity table, chair, a telephone, a coffeemaker, iron with a ironing board, mini fridge, an electronic safety box, hair dryer, wireless internet, alarm clock with a MP3 connection and various other useful facilitates.
Suites
The suites present a spacious bedroom, a living room, a large balcony and a private plunge pool. The suites are decorated with tropical tones and contemporary furnishings. The beds have plush Suite Dreams mattresses that will allow you to jump into a deep, comfortable slumber after a day filled with fun. All the balconies yield views of the ocean. The suites are at the highest point of the resort away from the hustle and bustle of the town. They provide a perfect getaway for people who are looking for ultimate seclusion.
Sportfishing with Hilton Papagayo Costa Rica Resort and Spa
Sportfishing with Hilton Papagayo Costa Rica Resort and Spa will definitely exceed your expectations. The Gulf of Papagayo has wonderful marine wildlife and the resort offers you an opportunity to fish to your heart's desire! The equipment provided is of excellent quality and the crew is very professional. You can also enjoy other actives like sunset tours, snorkeling, scuba diving, ATV tours, safaris, and surfing.
Contact Hilton Papagayo Costa Rica Resort and Spa
Location: Playa Arenilla, Gulf of Papagayo, Costa Rica
Website: http://www3.hilton.com/
Phone Number: 855-271-3621
Email: SJOPA_Info@hilton.com