Rocket Frog Divers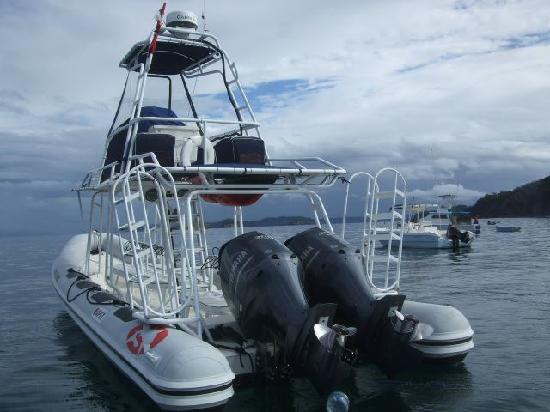 Rocket Frog Divers is a full service PADI associated dive company located in Ocotal in the Guanacaste Province of Costa Rica. It is situated only a few minutes away from Playa del Coco, a pristine beach providing an array of water sport opportunities. Rocket Frog Divers guarantees a secure, fun and productive service within reasonable rates. The company has many diving options ranging from open water diving to dive master internship. They have their own dive boat, The Pacific Express, which features two 300 HP V8 Yamaha 4 Stroke engines allowing a smooth and stable cruise. Having a boat solves a lot of problems. No matter how far the dive spots and sportfishing sites are, the boat takes you there with rapidness and comfort. Bats Islands, Catalinas Islands, and Isle Murcileago are the most popular destination for diving. Venture out to the spots within just 30 minutes! While on the boat, guests enjoy the calm and serene oceanic atmosphere and watch the marine creatures going about their business. Be it a family vacation, a romantic respite or friends getaway, with Rocket Frog Divers, travelers will have a wonderful time.
Choose Rocket Frog Dives for a Dive Adventure
Have an Excellent Dive Boat
Rocket Frog Dives owns a dive boat of first class quality since 2011. Built with diving in mid, The Pacific Express simply offers the best
ride possible for diving purposes. The boat is 36 ft long, with two 300 HP Yamaha engines and fully stocked. The engines and fine machinery make it possible to have a fast and stable ride to the prime dive spots. In other words, the company focuses more on the time spent on diving rather than worrying about transportation which makes both the staff and guests real happy.
A Cordial and Knowledgeable Crew
Besides being diving experts and bilingual, the staff is also very cordial. The crew ensures that their customers feel at ease, learn new things and enjoy the adventure. The staff is highly active and works on daily basis. If you have any query, feel free to ask without hesitating. From having special requests, transportation problems to recommendations, ask away and find a solution! The dive masters have a vast experience in the field. Along with being great dive instructors, their love for diving and sea life will surely increase your enthusiasm!
Superb Safety Precautions
Rocket Frog Divers has a 100% percent safety record! They never had any kind of accidents, boat malfunctioning, or injuries during the dive sessions. The staff is fully trained in first aid and is regularly updated. The boat is nicely maintained and is serviced frequently. While providing fun and entertainment all the time, they never forget their responsibilities. This is one of the main reasons why they have so many loyal clients!
Contact Rocket Frog Divers
Location: Condominos Los Almendros de Ocotal, Ocotal, Guanacaste, Costa Rica
Website: http://www.scuba-dive-costa-rica.com/
Phone Number: +506 2670 1589 and (506) 8834-6646
Email: rocketfrogdivers@gmail.com
Facebook Page: https://www.facebook.com/pages/Rocket-Frog-Divers/253991077984154
A Fun Day with Rocket Frog Divers