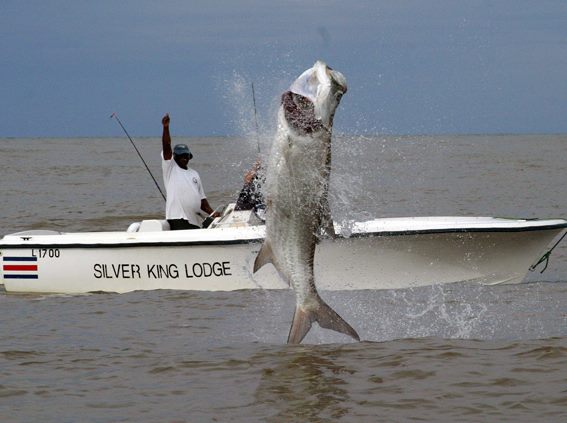 Are you a fishing enthusiast looking to tackle high-leaping tarpons on the Caribbean coast of Costa Rica? Make your way to Silver King Lodge, a fishing resort situated in Puerto Limon, where you can indulge in your favorite pastime and expect great rates and excellent services.
Whether you are an expert or a novice, Silver King Lodge teaches you to handle angling equipment, use different techniques and hook impressive catches in a proper, fun and efficient way. Rio Colorado, famous for its fishing opportunities, runs alongside the resort within the second largest rain forest of the country, Barra del Colorado Wildlife Refuge. In addition to freshwater fishing, the lodge organizes inshore and offshore fishing expeditions. For accommodations, the lodge has comfortable rooms where you can enjoy a deep slumber after a satisfyingly tiring day.
Fishing Trips with Silver King Lodge
Silver King Lodge guarantees a safe, fun and productive fishing experience. They offer fishing in different spots, use good-quality equipment and have their own fleet of boats. At Silver King Lodge, vacationers learn to fish with professional local fishing guides who have decades of experience in the tropical waters. The instructors teach with utmost patience, encouragement and take their time with each student. Guests will learn both conventional and fly fishing techniques.
River and Lagoon
Rio Colorado is known to house diverse fish species out of which Tarpons, the silver kings of the coastal water, and Giant Snook are the most prominent and sought-after. If you are tired of wrestling the larger species, you can try to catch smaller but challenging game fish such Guapote, Pan Fish, Bobo, Mohara, Tiger-fish, Drum, Pinto and Alligator Gar.
Offshore and Inshore Fishing
Get to the Caribbean Sea and drop the line to catch some of the most popular inshore and offshore species. The sea is flourishing with a plethora of fish such as King and Spanish Mackerel, Crevalle Jack, Snapper, African Pompano, Barracuda, Wahoo, Yellowfin Tuna, Bigeye Tuna, Trapon, Atlantic Sailfish, Dorado, Blac, Triple Tail and Snook.
Accommodations
The lodge is encircled by a rain-forest offering great vantage points. There are large rooms that span over 450 square feet and 12 foot wild cane ceilings. The rooms are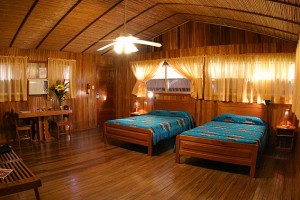 furnished with two queen size beds, rod racks, and walk in closets, hot water heater, coffee make and air conditioners. Each room has its own bathroom. Those who love nature will have a fine time exploring the jungle trails, swamps and river isles. The surrounding area is alive with blossoming flowers, brilliantly colored birds, monkeys, crocodiles, ocelot, jaguars, and iguanas.
Restaurant and Bar
There is a bar and a restaurant featuring an extensive selection of drinks and a variety of cuisines. They have a fine ambience for all sorts of occasions; be it a casual hang-out, a candlelight dinner date or a family meal.
Contact Silver King Lodge
Location: Barra del Colorado, Puerto Limon, Costa Rica
Website: http://silverkinglodge.com/
Email: info@silverkinglodge.com
Phone Number: 1-877-335-0755
Huge Tarpon at Silver King Lodge in Costa Rica
For more information on Silver King Lodge:
Visit Silver King Lodge's Facebook Page to know more about the place.
Check out Silver King Lodge reviews on TripAdvisor.
Visit costaricajourneys.com for further details on Silver King Lodge.