Activities in Isla del Caño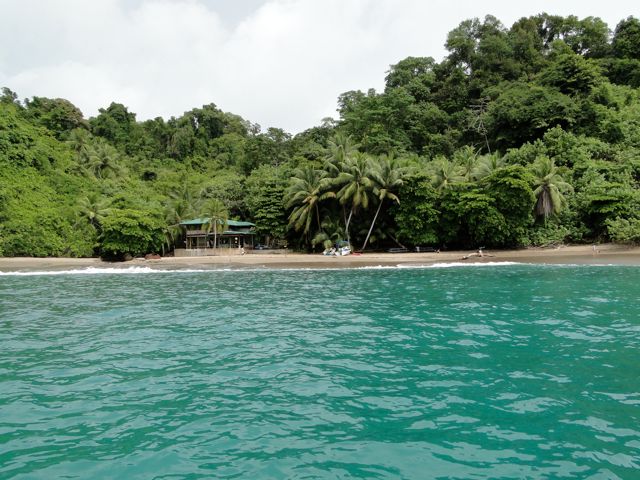 Isla del Caño is a tiny but beautiful island located in the Bahia de Corcovado on the Pacific Ocean side of Costa Rica. It is approximately 10 miles west of Punta Llorona on Península de Osa.
The isle is a nature reserve park with a ranger station. With its strings of white sand beaches, coral beds, vast marine life, pre-Columbian artifacts, mysterious stone spheres, and luscious scenery, it attracts hundreds of visitors. It is believed that Cano Island was once a hideout for pirates and some people even say the famous novel called Treasure Island by Robert Stevenson's was inspired by the island. Cano Island is a nature sanctuary providing a wonderful getaway for vacationers. Not only it is a pretty place to enjoy a relaxing day, it also offers an array of activities such as wildlife watching, hiking, snorkeling, scuba diving, sportfishing, trips to the nearby Corcovado National Park and smooth boat rides in the ocean. There are plenty of accommodations and restaurants in the neighboring areas, Drake Bay and Osa Peninsula.
Boat Rides and Water Activities in Cano Island
Crystal clear ocean and a large collection of colorful coral reef encircle Isla del Cano. The water has quite a large number of coral
building organisms and these reefs are also home to several species of lobsters, colorful fish, and giant conchs. The Pacific Ocean on this side is flourishing with marine creatures. Their abundance along with excellent water clarity makes aquatic sport activities real fun. During a boat ride, tourists will get the opportunity to observe the large schools of whales, particularly humpback and pilot whales during the migratory season, playful dolphins, giant manta rays, tuna, needle-fish, barracuda, snapper, white-tipped reef sharks, olive ridley sea turtles, moray eels and many other species. The boat trips usually take about 45 minutes from Drake Bay and 90 minutes from Sierpe. Considering the vast abundance of water species, it is no wonder why the island is a hot spot for snorkeling, diving and sportfishing. As it is a protected land, the number of sports sites is not many, 5 at most. Only 10 divers are allowed at a time. Various agencies, hotels and tour companies arrange tours to Isla del Cano for snorkeling and scuba diving. After having a great time observing the life of underwater creatures, head back to the sun kissed beach to have a delicious picnic. Don't forget to put on some sun block!
The water surrounding Costa Rica is a heaven for fishermen. Both inshore and offshore fishing are quite productive and this is the reason why so many sportfishing enthusiasts travel to the tropical country to catch the game fish. However in Isla del cano sportfishing is not allowed because it is nature reserve. Tourists can still have a fine time watching popular inshore species, which are rooster fish, snappers, and snook. They are found all year round. Offshore species are sailfish and marlin, present during the months of December and April, mahi mahi present from December to March, yellowfin tuna which s found throughout the year. Isla del Cano also offers hiking tours, bird watching and wildlife watching that turn out to be quite exciting.
For a great and adventurous diving and snorkeling trips, visit Cano Island!
Isla del Caño