Mar1 Sportfishing in Quepos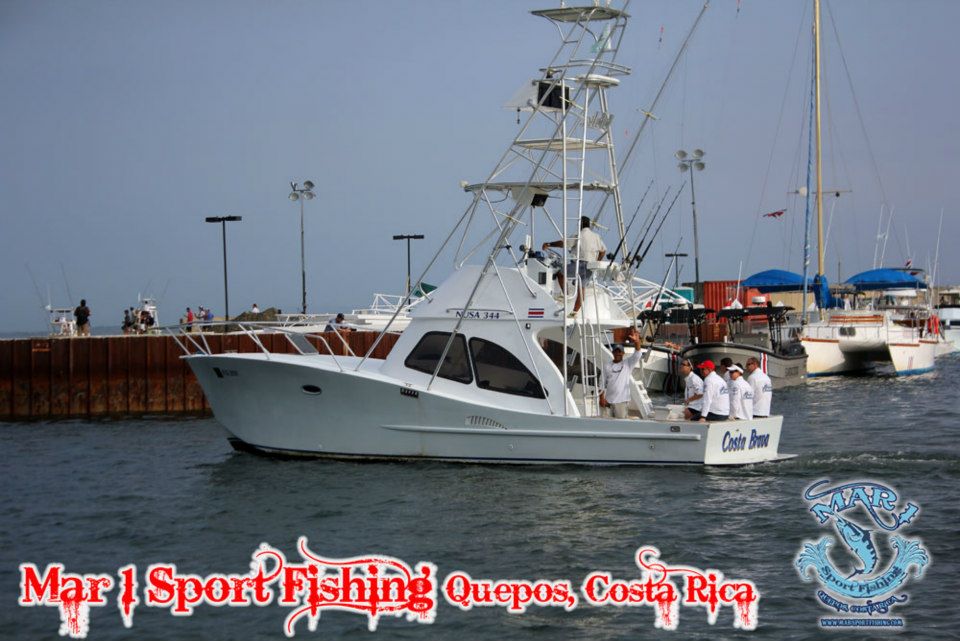 Mar1 Sportfishing is a fishing company located in a tropical beach town named Quepos in Costa Rica. Quepos is well known for its amazing fishing grounds, especially for Marlins and Pacific Sailfish.
The town also holds various international championship tournaments for sportfishing such as IFGA Offshore World Championships. Seasoned anglers and fishing enthusiasts from all over the world to catch the tropical game fish hoping to break the world record. It currently has over 70 IGFA world-record! In short, you can call Quepos a truly awesome fishing platform. So, all sportfishing enthusiasts on their vacation to Costa Rica should visit Quepos for an ultimate fishing experience.
Why Should You Choose Mar1 Sportfishing?
Mar1 Sportfishing is a popular fishing charter in Quepos. They have their own fleet of boats, a bilingual staff, and an experienced
captain. The company offers various facilities to their clients in order to make their vacation very comfortable. The boats are available in all sizes and the captain is always there to instruct and guide you with the fishing. The ocean encircling Quepos is said to be one of the major destination for sportfishing in Central America. Besides Quepos, the company also organizes tours to other renowned fishing grounds as well such as Manuel Antonio, Flamingo, Golfito, Jaco, Los Sueños, Guanacaste, and even on the Caribbean region of the country for those who are looking for Tarpon. Based on the customer's interests, the charter delivers several types of fishing lessons that include conventional fishing, spear fishing, fly fishing and Catch and Release for bill fishes. Due to its popularly and amazing reputation, Mar1 Sportfishing Charter has reached the list of highest rated sportfishing companies in Costa Rica. The boats are of excellent quality rigged with the latest equipment and electronics such as GPS, radios, cell phones, fishing gear and so on. Mar1 Sportfishing guarantees you a secure, productive and fun filled sportfishing venture on your well deserved tropical retreat!
Mar1 Sportfishing Packages
Mar1 Sportfishing has many fishing packages and deals to offer! Whether it is inshore, offshore, inshore, lake fishing, over night fishing or fishing in multiple destinations, Mar1 Sportfishing will arrange everything to your liking. Some of the packages are:
Fishing Holiday Packages
Fishing Holiday Packages is considered a specialty at Mar1 Sportfishing. It includes transportation and accommodation arrangement and other activities and tours besides fishing. The package is totally customizable and budget friendly. Choose your own favorite location, duration of the trip and a total number of people who will be going. You can consult online or make a call if you need any help!
Inshore and Offshore Fishing
The company offers fabulous offshore fishing opportunity for Pacific Sailfish, Blue Black and Striped Marlin, Yellow Fin Tuna, Dorado (Mahi-Mahi), and Wahoo. The water is flourishing with these game fish and with the right technique; even a newbie can easily catch a fish or two. Inshore fishing is carried out closer to the shore and includes specie like Snapper, Jack Crevalle, King Mackerel, Wahoo, Barracuda and of course, the majestic Roosterfish. During your trip, you will observe superb marine creatures like dolphins, sea turtles, sharks and sea turtles!
Fly Fishing and Fresh Water Fishing
Go on a fly fishing and fresh water fishing adventures with Mar1 Sportfishing! Fresh water fishing is carried out in several rivers and lakes present in the country.
Contact Mar 1 Sportfishing
Location: Quepos, Costa Rica
Website: http://www.mar1sportfishing.com/
Phone Number: 360-566-2339 and (011-506)6770-9687
Email: mark@mar1sportfishing.com
Facebook Page: https://www.facebook.com/pages/Mar-1-Sportfishing/88930343504
Sportfishing with Mar1 in Quepos