Pez Espada Sportfishing in Quepos
Pez Espada Sportfishing is a renowned sportfishing charter located in Quepos and Manuel Antonio, Costa Rica. The company
organizes fishing trips mostly under the policy of catch and release and thus helps to maintain the marine treasures. Quepos is famous all over the country for its enriched fishing grounds and abundance of marine creatures. It has won various international fishing tournaments and holds over 70 IGFA world record. Fishing enthusiasts from all around the world come to Costa Rica for a taste of awesome fishing expedition. Places like Flamingo, Jaco, Herradura, Limon, Puerto Jimenez and of course Manuel Antonio and Quepos are few of the many rewarding fishing destinations. Be it a seasoned angler or a newbie, fishing in Costa Rica provides a great experience and entertainment as well.
Reasons to Fish with Pez Espada Sportfishing
With the guidance of Pez Espada Sportfishing, go on a wonderful fishing venture to catch inshore and offshore tropical species. Quepos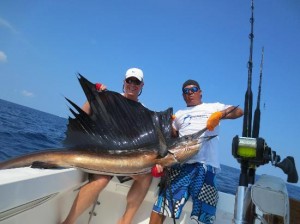 provides a great opportunity to catch offshore game fish species like blue, black and striped marlins, yellowfin tuna, Pacific sailfish, wahoo, dorado, mahi mahi, and numerous more. Offshore fishing is carried out miles away from the shoreline and offers a chance to cruise the Pacific Ocean and observe dolphins and whales too! The months from November to May are particularly very productive with 15 or catches per day! The most sought after inshore game fish is roosterfish! The heavy fish is not only impressive but also puts up a good fight! Clients are allowed to catch food species. There are plenty of those in the Pacific Ocean like mahi mahi, dorado, snapper, wahoo and snook. Most of the time, large snooks are found in the river mouth. Whatever you want to target and where you want to fish, Paz Espada Sportfishing promises you a day full of excitement and fun!
The Boat
Paz Espada Sportfishing owns a beautiful 36 ft boat named Dawson. The boat is located at the Marina Pez Vela and has recently got fully inspected. Dawson is rigged with latest electronics, two brand new twin diesel engines, sonar fish finder, and full cabin with a bed, kitchen, marine washroom, and stereo system with iPod dock, fighting chair and high quality fishing tackle. The charter runs daily trips with 6 fishermen on board!
The Crew
Pez Espada Sportfishing has a fabulous staff. They have a highly trained, bilingual crew and experienced captains. The staff not only helps you in fishing expeditions but will also advise you on accommodations, transportation and other tours! If clients are not satisfied with the trip, they will gladly customize it for you. Have a secure and awesome sportfishing adventure with Pez Espada Sportfishing.
Contact Pez Espada Sportfishing
Location: Quepos | Puntarenas, Quepos 159, Costa Rica
Website: http://www.pezespadasportfishing.com/
Phone Number: (506) 2777-0100
Email: info@pezespadasportfishing.com
Facebook Page: https://www.facebook.com/pages/Pez-Espada-Sportfishing/122455564617187
Offshore Fishing with Pez Espada Sportfishing