Cocozuma Sportfishing in Montezuma
Cocozuma Sportfishing in Montezuma
On your vacation to Montezuma, Cocozuma Sportfishing and Tours will allow you to have exciting and affordable adventures with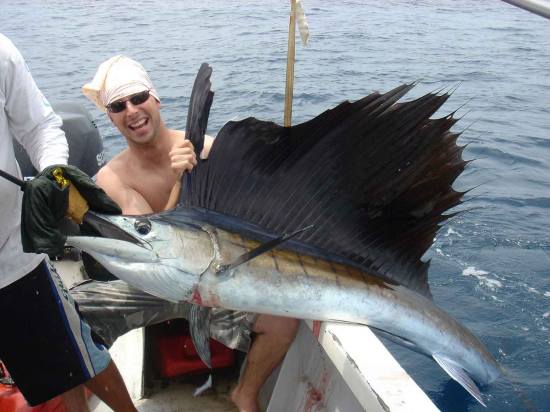 your loved ones. Montezuma is a splendid beach town located in Puntarenas Province of Costa Rica. It used to be a secluded fishing village which achieved popularity as a budget friendly tourist destination since the 1980s. The town has plenty of accommodations, restaurants, gift shops and many night bars like Chico's Bar. Montezuma has a casual and frank ambiance which helps to make the travelers feel at ease. The headquarters of Cocozuma are in Montezuma with two additional branches in Jaco and Santa Teresa. Cocozuma Sportfishing and Tours arranges expeditions to ocean and forests in Montezuma and other towns. Vacationers are offered horseback riding on the beach, snorkeling and scuba diving at Tortuga Island, trips to Cabo Blanco Nature Reserve, hiking through the jungles, deep sea fishing, waterfall trekking, wildlife watching and so many more fun activities! If you are not into sports and just want to laze around, you can have a fine day on the beach. Picnics and sunbathing by the day and strolling and star gazing by the night, the white sand beaches of Montezuma are perfect for couples!
Based on client's preferences, Cocozuma Sportfishing and Tours gladly arrange trips to Arenal Volcano, Samara, Tamarindo, and Monteverde. They have cars, ATV gear, boogie boards, surf board, snorkeling gear and fishing tackle on rent at a very reasonable price! Their team will also advise you if you have any queries, such as about transportation and accommodation. At the end of the day, the tourists will be totally satisfied with the service. Book a trip with Cocozuma Sportfishing and Tours to have a perfect fishing venture in the midst oceanic panoramas. Don't forget to bring some sunscreen, your shades and a camera to capture the happy moments!
Sportfishing with Cocozuma in Montezuma
The Pacific Ocean bordering Montezuma is flourishing with superb underwater species. With the help of Cocozuma, fish to your heart's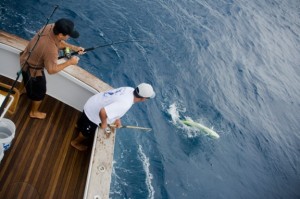 desire! Put up a good fight with sailfish, blue, black or striped marlins, yellowfin tuna, dorado, wahoo, swordfish, snapper, grouper, billfsih or roosetrfish on your fishing venture! Although, fishes are mostly present all year round, their number increases during the peak season. Whether it is offshore or inshore fishing, your fishing holiday with Cocozuma in Montezuma is going to be an exceptional one!
Cocozuma Sportfishing Packages
Cocozuma offers spectacular deals and packages to their customers which are convenient, safe and enjoyable! The Sunrise Package includes an offshore fishing trip that begins at 6 in the morning till 9 a.m. For those of you who are not early birds, The Sunset Package would do the work. It is from 2 p.m. to 5 p.m. Besides sportfishing, customers have a chance to witness the famous Monzteuma sunset! There are both full and half day charters. Half day trips usually last for 4 hours while full day charter is 8 hours long! Deep sea fishing, catch and release, fly fishing or simple sportfishing, Cocozuma definitely lives up to your expectations!
Contact Cocozuma Sportfishing
Location: Headquarters at El Sano Banano Village Hotel, Montezuma , Costa Rica.
Offices at Santa Teresa and Jaco.
Website: http://www.cocozumacr.com/
Phone Number: (506) 2642-0911 and (506) 2642-1011
Email: info@cocozumacr.com