Costa Rica Surfing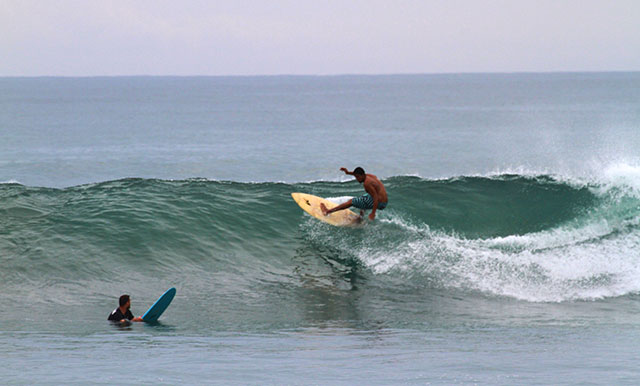 There are numerous white sand beaches along the Costa Rican shorelines that have waves to brave. It is mainly because of the surfing opportunities that Costa Rica has become such a popular tourist destination. Almost on every beach, there are awesome surf breaks waiting to be ridden. Be it a professional surfer, a newbie or someone who just want to try it for fun, there are suitable surf breaks for everyone. There are plenty of shops sprawling on the beaches which rent surf boards and wet suits at a very affordable price. If you prefer to have a guide with you, then you can book yourself a spot in a surf school. Before starting, find out about the best breaks and climate. Surfing in Costa Rica is one fabulous adventure. Indulge yourself in the rushing waves and surf to your heart's content.
Best Breaks and Destinations for Surfing in Costa Rica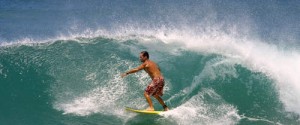 There are various surf spots in the tropical country such as Nosara, Tamarindo, Playa Avellanes, Negra, Santa Teresa, Mal Pais, Playa Hermosa, Jaco, Manual Antonio, Dominical, Matapalo, Pavones and Puerto Viejo. If you are not sure where to go surfing, you can take advice from the surfing schools and guides who will give you a perspective. Following are considered the best spots for surfing:
Tamarindo
Located on the northern Pacific coast, Tamarindo is a surfer's paradise. There are plenty of surf breaks that are easily accessible and are suitable to everyone. The beach has the famous reef breaks like Witches Rock and Ollie's Point, a tougher one at Playa Langosta, at Pico Pequeno and some breaks in the rivermouth.
Surf Spots in Mal Pais and Santa Teresa
Mal Pais and Santa Teresa are incredible places to surf. There are no crowds so you don't have to wait for your turn to surf. The strong winds and currents from the Central Pacific region hit the coasts of Mal Pais creating a perfect mix of high tides and currents throughout the year. Santa Teresa means seclusion, pristine beaches, amazing sunset vistas and high swells.' La Lora Amarilla and Suck Rock are the popular surf spots in Santa Teresa. La Lora Amarilla is a hollow, 'a' shaped wave which is mostly in a low tide. The tides are usually low but sometimes the high tides make up a wall of 150 meters long! Fora great experience, surfers should come during the summertime.
Playa Hermosa
The northern end of Playa Hermosa is recognized as one of the best surf spots internationally as it holds annual surf contests. The beach offers surf breaks throughout the year.
Playa Avellanas
Playa Avellanas features a great surfing point called El Estero. The waves are huge, hollow and fast offering a fabulous experience.
Best Time of the Year to Surf
The weather of Costa Rica differs from the norm. When it is winter in most parts of the world, summer prevails in Costa Rica. The months from December to April are considered to be the summer season. Summertime means sunshine, tourists, and no rain. It is also called 'high season' due to increase in tourism and prices. Surfing in Costa Rica is best during this time of the year on both the Pacific and Caribbean regions. The swells are clean and perfectly shaped.
More Surfing Info
Costa Rica Surf Camps – Article: Best 10 Best Surf Camps in Costa Rica
CostaRicasurfing.org – Great source of everything to do with surfing here.
MalpaisSurfing.com – All about surfing in Santa Teresa and Mal Pais areas of Costa Rica
Video: Surfing In Costa Rica