Rhino Charger Sportfishing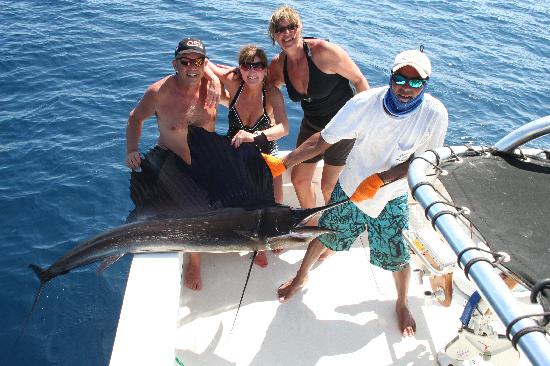 Rhino Charger Sportfishing is based in Tamarindo Bay, Costa Rica on the northern west coast of the Pacific Ocean. Tamarindo is considered to be one of the top tourist destinations. With its shimmering sun kissed beaches, clean shorelines, scenic greenery, sport opportunities and a diverse wildlife, it has a lot to offer to the travelers. Sportfishing, deep sea fishing, fly fishing and catch & release for bill fishes are few of the popular fishing techniques practiced. Along with recreational fishing expeditions, tourists are offered boat tours, wildlife watching, surfing, boogie boarding, sea kayaking, horseback riding, hiking, and much more! The water in front of Tamarindo is calm and nutrient rich luring hundreds of underwater game species. Book a tour with Rhino Charger Sportfishing and go fishing in the Pacific to your heart's desire. Whether it is inshore or offshore fishing trip, both will prove to be really prolific.
What to Expect on Your Fishing Trip with Rhino Charger Sportfishing
Rhino Charger Sportfishing organize trips for offshore species like Blue, Black and Striped Marlins, Mahi Mahi, Sailfish, Wahoo, Yellowfin Tuna, and Dorado, and for inshore specie such as Amberjack, Grouper, Snapper, Roosterfish, and Spotted Mackerel. The company practices catch and release for bill fish as they are protected species. If you are short on time then plan a fishing trip in the coastal waters where the chances of catching a majestic roosterfish or a giant cubera are very high! The game fish species are present all year round but they are very easy to catch during the dry season which lasts from December to May. It does not matter if you are a seasoned angler or new at fishing, sportfishing with Rhino Charger Sportfishing is always a creative and entertaining one.
Rhino Charger Sportfishing – The Rhino Charger Boat
The Rhino Charger is a 30 ft Island Hopper. The boat is powered by a 450 HP turbo diesel Cummings engine. It has a high speed of 30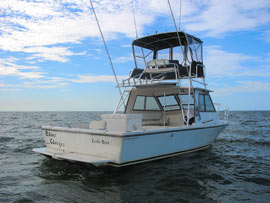 knots and boasts a secure, quick and comfortable ride. The Rhino Charger has a spacious open cockpit, with enough fighting room and shade with a capacity of seven people. The deck is below the cockpit with a vast cabin where clients can have some privacy and rest. The gear and equipment includes CG safety equipment plus VHF radios, dual Furno GPS, chart plotters, auto pilot, global positioning emergency locator, on board international and local telephones. The boat is managed by the captain, Tony Lautieri, who is also a veteran fisherman with a vast experience of over 25 years. He has a USCG 100 ton masters license and certification. He and his crew guide the clients on the fishing tours, instruct them patiently on how to fish and also share the secrets of Pacific fishing! With Rhino Charger Sportfishing, have an unforgettable and impeccable fishing tour!
Contact Rhino Charger Sportfishing
Location: Tamarindo Bay, Tamarindo, Costa Rica
Website: https://www.rhinocharger.com
Phone Number: 1-772-905-2941
Email: rhinocharger@gmail.com
Rhino Charger Sportfishing