Roosterfish – The Majestic Fish of Costa Rica
Roosterfish – The Majestic Fish of Costa Rica
The roosterfish, or Nematistius pectoralis, is the most sought after game fish found in Costa Rica. It is considered to be a prized sport fish species in the warm, tropical water of the country.
Fishermen, sportfishing enthusiasts and even novice travelers from all over the world love the opportunity to catch one of these majestic fishes during their vacation in Costa Rica. The impressive and strong fish is known for its hard fight against the anglers that even may force them to give up and unhook them! As the fish is inedible, it is common to release the fish after it has been hooked.
Description
The roosterfish is recognized by its famous 'rooster comb' which is a set of seven fine looking long spines on the dorsal fin. In length, Roosterfish can be up to 1.6 meter while in weight they can reach over 50 kg! Not much is known about their life span.
Dietary Habits of Roosterfish
The roosterfish is an active predator. It preys on small fishes such as lookdowns, rainbow runners, or mullet fish, crabs and crustaceans.
Roosterfish – Where and When to Find Them
Anglers and fishermen mostly catch the roosterfish during inshore fishing trips. They are usually found among the rocky isles, reefs,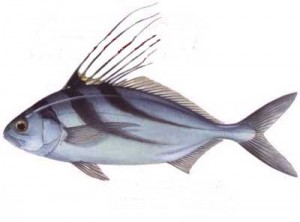 pinnacles and outcrops in the shallower waters. Very rarely, you will find the fish over the depth of 200 feet. In Costa Rica, the roosterfish is found everywhere along the Pacific coast. There is no specific season to catch roosterfish and you will find them very easily all year round. However, the period between January and April is said to be the peak season while September and October are considered to be very slow months for catching roosterfish. During the peak season, fishermen catch up to a 10 fishes a day!
A Huge Roosterfish in Costa Rica!
References
http://en.wikipedia.org/wiki/Roosterfish
http://www.mar1sportfishing.com/Roosterfish.html