Banana Bay Marina in Golfito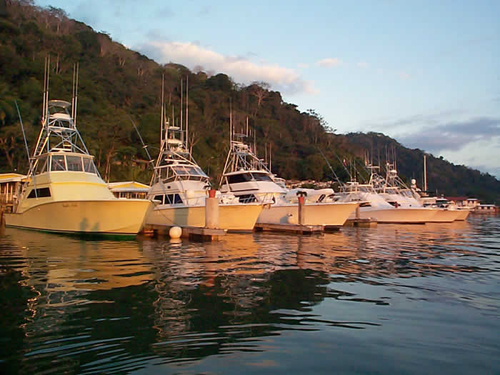 Banana Bay Marina is located in a tropical city of Costa Rica called Golfito. The marina is right at the edge of a jungle and is sitting deep in a natural gulf named Golfo Dulce. Golfo Dulce is separated from the open Pacific Ocean and is popular for its diverse ecosystem. For sailors and yachtsman, the gulf is a perfect harbor. Since 1995, Banana Bay Marina is offering its excellent services to boaters, fishermen, sailors and cruisers who are passing through the gulf. The marina also has a fully equipped sportfishing center, restaurant, bar and tastefully appointed guest suites. Due to its location, Banana Bay Marina is sheltered from the strong currents of the open ocean and is able to operate all year round. Golfito may be a small town but it is quite a beautiful one. Vacationers love its whimsical ambiance, tropical lushness, stunning white sand beaches, sport opportunities, particularly sportfishing, and several sightseeing areas. Some of the popular activities include snorkeling, surfing, horseback riding, spelunking, sportfishing, kayaking, scuba diving, mangroves tours and bird watching. Guests have a fabulous chance to use the amenities of marina, stay in elegantly furnished and comfortable suites, and have an amazing dining experience at Banana Bay Marina during their respite in Golfito. Be it a long awaited romantic getaway, an adventurous family holiday, or yachts in transit, Banana Bay Marina will make sure you have an ideal time!
The Marina and Its Services
Banana Bay Marina is situated by the calm and crystal clear water of Golfito Bay. The marina has a wooden dock system that can accommodate up to 120 ft vessels, a firm base for draft moorings, anchorage area, a floating dinghy dock, clean, fully equipped marine washroom and showers, hot tubs, towels, potable pressurized water system, laundry service, television with a cable, telephone, fax and free internet access along with 24 hour security system, boat maintenance and repair, shipping and receiving, fishing permits, charts and advice, and fuel service. The concierge is bilingual, cordial and will happily help you out with any query you have.
Guest Suites
Banana Bay Marina provides sophisticated lodging to their guests. All suites are spacious, air conditioned and creatively decorated.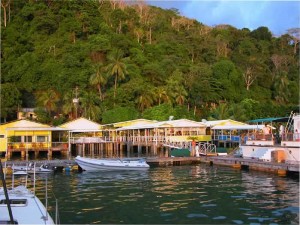 Each suite is appointed with a plush queen sized bed, a LED television with a cable system and private bathe with how water supply. Customers appreciate the peaceful and secluded environment and enjoy the gentle oceanic breeze and superb views of the coast. Vacationers can have a fine time in a Jacuzzi which overlooks the spectacular bay. Other facilities are free wireless internet, coffee maker, refrigerator, safe deposit box, hairdryers, desk work area, alarm clocks, free parking and a security system. Please note that all rooms are non smoking. Price range is from $95 per night to $135 per night.
Restaurant and Bar
Banana Bay Marina offers a unique oceanfront dining experience at Bilge Bar Grill. Savor the delicious European, American and Costa Rican dishes such as fresh seafood, salads, steaks, skillet omelets, char-grilled burgers, desserts and much more! Afterwards relax with a fresh tropical cocktail from the bar and socialize. The restaurant is open from 6 am to 10 pm.
Contact Banana Bay Marina
Location: Km. 2, Casa Amarilla, Golfito 60701, Costa Rica
Website: http://www.bananabaymarinagolfito.com/
Phone Number: 011-506-2775-0838 and 011-506-2775-1111
Email: info@bananabaymarinagolfito.com
Facebook Page: https://www.facebook.com/pages/Banana-Bay-Marina/145793232184372
Video: Banana Bay Marina