The Zancudo Fishing Lodge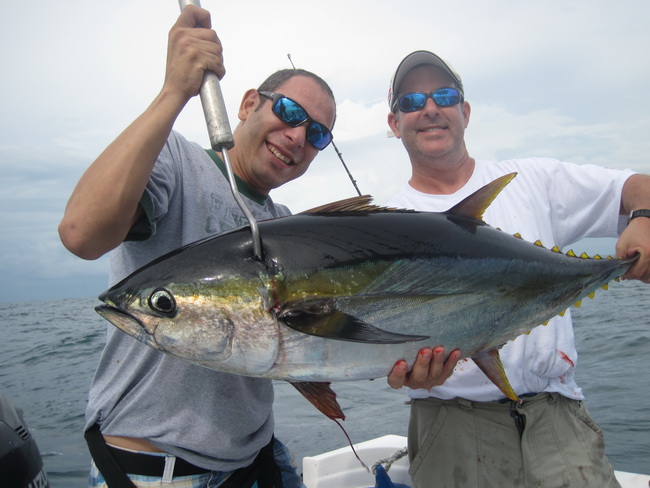 The Zancudo Fishing Lodge is a deluxe fishing resort located in Playa Zancudo, Golfito, Costa Rica. Over the time of 20 years, the resort has established itself as one of the top luxury sportfishing lodges. It is acknowledged for its inshore and onshore fishing tours and holds over 70 IGFA world records. The lodge is sprawling over a beautiful private beach encompassed by the vast ocean and verdurous tropical foliage. The premier fishing resort is supported by Orvis and other corporate sponsors like P-Line, Pelagic Gear, Yo-Zuri, Navionics and Mustad. With the help of their endorsement, guests enjoy a unique adventure with the best possible amenities. Sportfishing is admired by millions of people. Due to Costa Rica's massive terrestrial and aquatic biodiversity, fishing enthusiasts from all over the world visit the country to catch some Sailfish, Wahoo, Marlin, Mahi Mahni, Tuna and lots of more. With The Zancudo Fishing Charter, vacationers can have productive yet enjoyable fishing trips. The Zancudo Lodge makes sure you admire the sublime views, explore the ocean and go home with unforgettable memories.
Sportfishing with The Zancudo Fishing Lodge
Sportfishing for Dorado is recommended during the months of November and April. Blue Marlins are present throughout the year but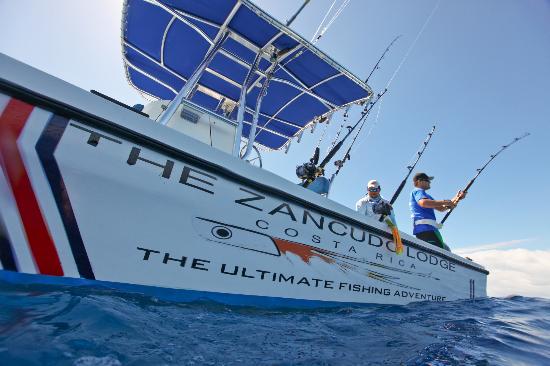 are high in number during November and December while Black ones are found in abundance during July and August. Rooster Fish are common all year round with a size range of 20 to 70 pounds. Sailfish peak from November to May but they are likely to be caught throughout the year. Snooks are usually found in rivers and an ultra light spinning gear should be used to catch them. Other fishes like Tuna, Snapper, Crevelle Jack, Amber Jack, Triple Tail, Rainbow Runner, Grouper, Sierra Mackerel, Barracuda, Permit and Pompano are also found. Trips include a night stay at the hotel, transport service, meals, drink, free calls to USA and internet access. Trips can be arranged on standard or big boats. The boats can accommodate up to 3 people and rates depend upon the duration of the trip and number of people. The usual daily inclusive rate is $225.00 per person.
Fun With The Zancudo Fishing Lodge
The Zancudo Fishing Lodge has comfortable accommodations which are furnished with high quality material. After an exciting adventurous day, a pleasant stay and slumber are important for a great holiday experience and the lodge makes sure that their guests get excellent customer service. The Zancudo Lodge organizes various kinds of tours besides sportfishing. Surfing and Stand up Paddling are two of the most prevailing sports in Costa Rica. Golfo Dulce, with its numerous breaks, is considered as the prime surfing point. The lodge offers private transport service, board rentals and expert surfers for instructions. Vacationers who prefer to begin their holiday with a panoramic boat ride should take a Casa Orquidias Botanical Garden Tour. The boat traverses Golfo Dulce to scenic botanical gardens which have a vast orchid collection, rare flowers, organic vegetation and numerous other floras. The paradisaical gardens are breathtaking and a stroll for nature enthusiasts is highly recommended. Wildlife Sanctuary Tour is a great way to admire tropical birds and animals like macaws, toucans, sloths, white faced capuchins, mantled howlers and Central American spider monkeys! Horseback Rainforest Beach Tour takes you on an amazing journey through the mountains of Pavones to a string of white sand glittery beaches. On your way you will come across tropical jungles, its intense wildlife and pretty countryside. Discover the Rio Coto and its serene channels through Kayak Mangrove Tour where you may also encounter its imposing inhabitants like spectacled caiman, American crocodile, basilisk, roseate spoon bills and white ibis! Zip-line canopy tour is a popular sport in Costa Rica. Zipping through the treetops like Tarzan is a unique way to explore the jungles. During this trip, you will visit a waterfall of over 200 feet!
Contact The Zancudo Fishing Lodge
Location: Playa Zancudo, Golfito, Costa Rica (Formerly Zancudo Beach Resort)
Website: http://zancudolodge.com
Phone Number: (506)-2776-0008
Email: reservations@thezancudolodge.com
The Zancudo Fishing Lodge