Canopy Tours in Costa Rica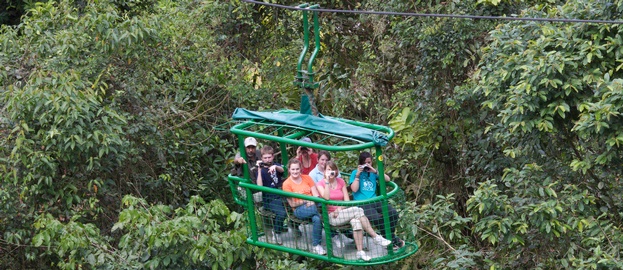 Zip lining and canopy tours in Costa Rica are one of the most popular and adventurous activities. It was actually a US experiment to study the plants, insects and animals without disturbing and endangering them. As it turns out, it became a superb way to see the jungles with a bird's eye view. Canopy tours in Costa Rica were initially introduced in the 1970s and since then they have gained tremendous popularity in the tropical country among both locals and tourists. The metal cables and platforms are built at different heights between the trees. The adrenaline pumping activity allows you to observe the verdurous jungles of Costa Rica in a unique way. Costa Rica is widely covered in intense rain forests and numerous sublime areas which are not accessible by foot can be seen easily with the help of zip lining and canopy tours. With zip lining, travelers get to learn about reforestation as well as botanical and ecological values of the country. There are numerous platforms for canopy tours in Costa Rica but the bests ones are in Monteverde, Arenal, and Manuel Antonio.
Monteverde
Monteverde is simply a magical retreat with its cloudy, cool ambiance, enchanting jungle and vivid greenery. Located in the Central Highlands, Monteverde is a very popular eco destination. The stunning Monteverde Cloud Reserve boasts an amazing mountaintop heaven with a wide range of activities. There are sky walks on suspension bridges, sky trams, exploration of butterfly and botanical gardens, hiking, horseback riding, indulging in Vandara Hot Springs and Spa, wildlife watching, safaris and of course, canopy tours. On the Tarzan Swing, venture into the jungle and experience the most thrilling ride of your life. The crew is highly professional and bilingual. The reserve ensures a safe, secure and fun adventure.
The Arenal Volcano National Park
The Arenal Volcano National Park primarily consists of various rain forests with a wide variety of wildlife. The reserve has many
different ecosystems. Arenal Reserve offers an endless range of activities such horseback riding, whitewater rafting, safaris, waterfall tours, hiking, kite surfing, canoeing, fishing, hanging bridge and canopy tours. There are 11 platforms and cables in Arenal for canopy tours from where travelers can enjoy the aerial view of the forests, volcanoes and rivers below. The tour operator utilizes high quality equipment to ensure safety. The exciting trip is about 2 hours long and is appropriate for all ages.
Manuel Antonio National Park
Manuel Antonio National Park features pristine beaches, forests, amazing wildlife and plenty of activities like swimming, hiking, surfing, snorkeling, diving, zip lining and canopy tours. The reserve has 18 platforms, 10 zip lines, 2 repel lines, and a suspension bridge!
Canopy Tours – A Perfect Sport For Adventure Seekers
Craving an adrenaline rush? Then canopy tours are just meant for you! Although, canopy tours and zip lining are not suitable for weak hearted people, they are relatively quite safe. Make sure you book the trip with licensed and experienced tour operators. Before going whooping from tree to tree, fasten you harness and straps properly both for the ride and backup.
Canopy Tours in Costa Rica