Los Suenos Marina and Resort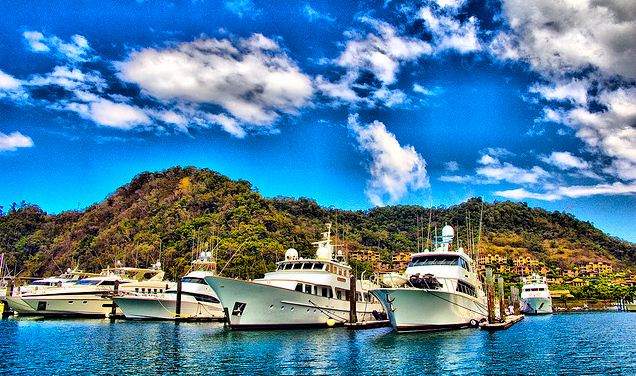 Los Suenos Marina and Resort is located on sublime Herradura Bay on the Central Pacific coast of Costa Rica. It is a large, approximately 1,100 acres, waterfront resort amidst azure oceanic water, pristine beaches and exotic tropical jungles.
The land includes a paradisiacal private jungle reserve of 600 acres which is alive with brightly colored flowers and herbs, towering trees and intense fauna such as quaint toucans, scarlet macaws, playful howler monkeys, three-toed sloths, iguanas, squirrels and the list goes on. The resort includes a five star Marriott Hotel which features 201 tastefully appointed, luxurious rooms that overlook the beautiful bay. Furthermore, the marina is located in close proximity to Jaco Beach, and just a short drive away to other sightseeing areas and adventure places. Whether you are looking for a quiet respite, a romantic getaway, adrenaline rushing adventures or a fun filled family vacation, at Los Suenos Marina and Resort you will experience a lavish, comfortable and a most enjoyable holiday.
Los Suenos Resort and Village
Los Suenos Resort and Marina is sprawling over a 1,100-acre land. The private land is immaculately polished and encompasses a five star hotel called Marriott Hotel with 201 deluxe rooms, about 500 posh residences, many exclusive splendid villas, posh single family houses, and neat condos. It also includes an internationally acclaimed marina with various sophisticated facilities, and a superb 2 acre Beach Club featuring a Jacuzzi, a massive swimming pool, a swim-up poolside bar, and an elevated silvery beach with palapas shades and stunning panoramas of the ocean and Herradura Bay. The Beach Club is a perfect place for hangouts and socializing. Guests and residents have privileged access to the club and its excellent amenities. Moreover, there is a 18 hole, 72 par championship golf course in a tropical ambiance of rain forests and crystal clear blue water. Have a fine time challenging your friends in a golf game while enjoying the incredible scenery. Besides providing a fine accommodation in one of the grand rooms, Marriott Hotel welcomes their guests to enjoy other facilities as well, such as restaurants, casino, meeting and conferences rooms, saunas and spa. Another unique feature of Los Suenos Resort is Marina Village. It is about 40,000 sq. ft. and includes an impressive array of amazing bars, boutiques, internet lounges, restaurants, banks, medical and other services. Los Suenos Marina and Resort guarantees that all vacationers will have an impeccable and unparalleled time during their stay.
Los Suenos Marina
Los Suenos Marina is the only specialized harbor running in Costa Rica which is sanctioned by the government. The marina provides an exclusive and high standard service to many luxury sportfishing boats, lavish yachts, and various other charters.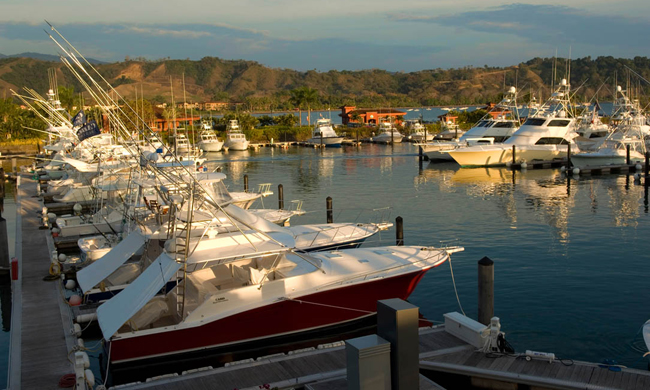 It has 200 wet slips, 100 dry slips, wide walkways, fuel docks, latest technology, high quality infrastructure and a full time experienced concierge. The slips can accommodate vessels of up to 180 ft in length! Other services provided by the marina are 24-hour security system, a video surveillance, trash removal, and dry slips for vessels up to 35 foot in length, self-storage units, a marine supply store, bar and restaurants and a fuel station. Other than its amenities, the marina's location couldn't be better! Los Suenos Marina is situated nearby one of best fishing platforms where one can catch various game fish, and its beautiful location also makes other sports adventures possible such as surfing, snorkeling and diving.
Contact Los Suenos Marina
Location: Los Suenos, Herradura Bay, Costa Rica
Website: http://www.lsrm.com/
Phone Number: 011.506.2630.4000 and toll free 1-866-865-9759
Fax: 011.506.2630.4010
Los Suenos Marina and Resort