Quepos Fishing Adventures

Quepos Fishing Adventures is a first class sportfishing charter located in Quepos and Manuel Antonio region of Puntarenas Province, Costa Rica. The company aims to provide an excellent and secure fishing adventure in the Central Pacific region. Quepos Fishing Adventures is situated a short drive away from Los Suenos, Herradura and Jaco which are also renowned for sportfishing. The water bordering Quepos is nutrient rich, calm and very clear with wave heights hardly reaching above 3 feet. For the first timers, Quepos is a great place to start! The ocean is flourishing with species and for newbies, it is easy to catch a fish or two. For seasoned anglers and professional fishermen, a dozen or two fishes on the hook are not a big deal. Quepos Fishing Adventure and its crew are fully focused on delivering an exclusive, productive and entertaining service to their clients. The company, unlike many other sportfishing charters, is not a booking agency. Most people are really pleased to find out that the captain himself drives the boat and clients get to communicate with him directly. Quepos Fishing Adventure takes you on a fabulous sportfishing adventure in the tropical Pacific water in a very affordable price!
Quepos Fishing Adventure Fishing Boat
Stress Reeliever 2 – 30 Ft Cold Molded Gamefisherman
Stress Reeliever 2 is made for fishermen! The cold molded boat is from the well known company called Gamefisherman. It is very light, stable and is made from wood and epoxy. The wood acts as a sound insulator and unlike fiberglass boats, it does not warn the fish about the boat. The boat has a marine washroom, Furuno electronics and latest equipment.
Stress Reeliever – 32 Foot Ocean Master
Stress Reeliever is a fantastic, professionally stocked 32 ft South Florida Ocean Master boat. It is equipped with latest Furuno electronics and has the high class Penn and Shimano fishing tackle.
Quepos Fishing Adventure Packages
In Costa Rica, there are no limitations on fishing except in protected areas. However, billfishes, including marlin and sailfish, are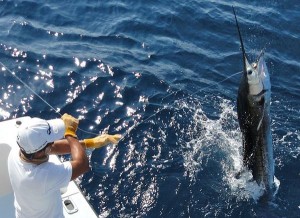 usually released after being caught. Quepos Fishing Adventure allows you to catch and keep food species like tuna, dorado, amber jack, snapper and mahi mahi.
Packages
Stress Reeliever 2 with Captain John or Captain Mike
The package features a single day, 3 days, or 2 days offshore fishing expedition. It takes up about four to six people at the time. The price of the tour is for all passengers and not per person. The package includes lunch, snacks, fruits and drinks. Offshore species Sailfish, Black Marlin, Blue Marlin, Striped Marlin, Yellow Fin Tuna, Dorado / Mahi Mahi, Amber Jacks, Snapper, Broomtail Grouper and Wahoo are targeted. Based on the preferences of the clients, inshore fishing can also be carried out on a smaller boat. Full day charters begin at 7 in the morning till 4 p.m. The company provides the fishing gear, spinning tackle and live baits.
Contact Quepos Fishing Adventure
Location: Muelle de Quepos | Boca Vieja, Quepos 60601, Costa Rica
Website: http://www.queposfishadventure.com/
Phone Number: USA: 281-617-2950 and Costa Rica: 2-777-4341
Email: FishCRJohn@Gmail.com
Quepos Fishing Adventure