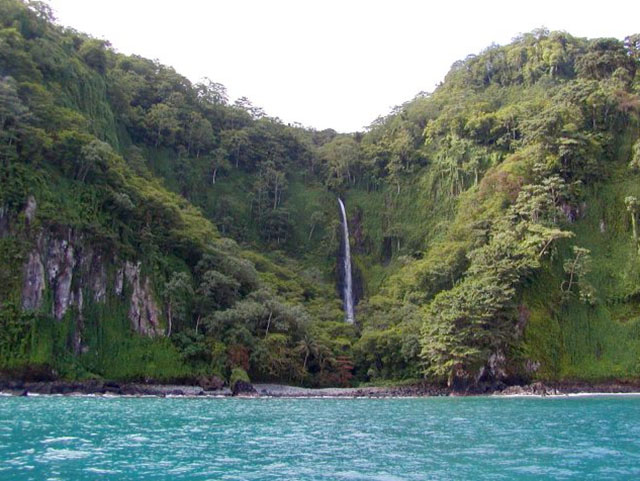 How many days you usually spend for an eco-adventure vacation? One week? One Month? In case you have ten days to spare and want to spend time with Mother Nature that is away from the noisy and buzzing tourist activity, then get ready to explore an offshore Pacific island paradise in Costa Rica called Cocos island.
Note: Cocos isn't a place for sportfishing, because it's a national park, and a protected marine reserve. Here, the big fish we seek are able to mate and live more or less like they did before the oceans were filled with fishermen. We need more of these types of reserves to insure the seas aren't depleted of gamefish.
Why 10 days?
Located 550 kilometers (340 miles) off the Pacific coast of mainland Costa Rica with no hotels or any form of accommodation on land, your only way to go and live in Cocos island is by signing up with a liveaboard cruise. Most of these liveaboard journeys are offered in a 10-day package. You will start by boarding your vessel in Puntarenas Port located in the southern coast of Costa Rica and embark on a 36-hour voyage out at sea en-route to Cocos island.
As you climb up to your vessel, you may pause for a while and ask yourself where to stay since there are no hotels in the island. Upon entering your vessel, you will discover that it has several spacious air-conditioned rooms called cabins. You will also find a restaurant inspired dining hall where feasting in sumptuous meals is not a problem. All the features of your liveaboard vessel has earned it the name "Floating Hotel". The 10th and last day of your journey is allocated in sailing back to mainland Costa Rica.
But how about the remaining 8 days? Well, you don't spend it sleeping, eating or drinking. Instead of storing fat in your system, you will rather burn it up with the eco-adventure trips lined up for you where adrenaline-loaded events are always part of your everyday activity.
10 Days of Wet and Wild Experience
First, we would like to clarify that what we mean about "wet and wild" has nothing to do with what most teenagers do in a bar. What we really mean is the actual experience and environment that you will be exposed to.
Get wet and Go Diving with Wild Sea Creatures
If there is one reason on why you should go and spend your vacation in Cocos island, then there is no other reason aside from a scuba diving holiday. But of all places on Earth to spend your scuba vacation, why Cocos island?
Considered as one of the best scuba diving destination in the world, Cocos island will give you maximum underwater pleasure. Equipped with over 10 amazing dive sites, your underwater adventures in Cocos island will never end without interacting with several large pelagic fish like sharks, jacks and rays.
If there is one thing that stands out when you go diving in Cocos island, then nothing beats the hammerhead shark experience where it has become its signature species. Coming in by the hundreds, if not thousands, hammerhead sharks literally swarms the surrounding waters of Cocos island.
Your typical dive profile in Cocos island starts by doing a back-roll entry in a skiff boat, then plunge down in to deeper waters while engaging in a drift dive over mild to moderate current. The direction of your descent usually leads you to the ledges of the reef where you will arrive in one of the cleaning station.
But why a cleaning station? Who's dirty? Who needs cleaning? It's not you, it's not me, but the big boys of the deep. Yes, different species of sharks that are loaded with skin parasites comes in near these cleaning station to be taken care of by cleanerfish where this fish gets a meal out of it. Aside from a close encounter, your shark interaction in the ledges of the reef will also include seeing them out in the open water and in huge numbers. This is particularly true for hammerhead sharks where their schooling formation resembles like a wall of shark.
As you end each dive, you will drift out at sea away from the reef where water currents are often strong. While hovering in mid-water en-route to your ascent to the surface, other large pelagic fish will usually put an icing on the cake. Most divers have seen the great vortex formation of bigeye trevally that is composed of over a thousand jacks circling around like a tornado of fish. Others have interacted with whalesharks, manta rays or the highly feared tiger shark.
Stay Dry and Explore the Abyss
After exploring the major dive spots in Cocos island and interacting with its marine wildlife, do you think you had seen it all? Before you answer that, allow us to take you to a deep-sea journey in one of the deepest trenches in Cocos island and see oddly-looking creatures that you may have never seen in your entire diving career.
Contrary to scuba diving, deep-sea diving doesn't get you wet. You will be sitting down comfortably in a deep-sea submersible. The submersible is just like a small submarine but has a huge glass dome allowing you to have a panoramic view of the underwater world.
As you start to descent, the upper view of your glass dome gives you a 360-degree view of the surface, and as you go deeper, the shadows of big pelagic fish block the rays of the sun leaving you a silhouette of the shallows. As you further plunge down to greater depths, the external lights of your deep-sea submersible will start to illuminate the perpetual darkness of the deep where oddly-looking creatures, like the prickly shark, jellynose fish and rosy-lipped batfish will start to come out and appear right in front of you as they are attracted to the artificial light.
Rainforest Hiking filled with Virgin Waterfalls and Pirate Artifacts
Cocos island is not your typical Pacific island where the land area is small and the tree population may only consist of a few coconuts. This offshore Costa Rican island is quite huge that it houses its own rainforest.
While human settlement is strictly prohibited, you can still set foot on the island and visit its towering natural beauty during the day. Included in one of your itineraries, you will disembark from your vessel and ride a small skiff boat going to island. Arriving on dry land, you will notice that there are rock carvings scattered along the shore. These carvings are made by medieval pirates and past explorers who have been to the island for some other reason. As you arrive in the ranger station to make a courtesy call to the Park Rangers who are guarding the island, you cannot resist but ask them: what could be the reason why pirates have been to Cocos island? Or do the rock carvings has something to do with their illegal business back then? After asking this, we are quite sure that park rangers will be very happy to tell you about famous Pirates (not from the Caribbean of course) and their stories of looted treasure buried somewhere in the island.
After a few minutes of story-telling and general orientation, you will start hiking following a trail that will lead you to one of the mountain peak and have a magnificent panoramic view of the entire island. On your way down, do not forget to pass by on one of the several waterfalls where dipping on its fresh water relieves you of this tiring experience. You will also come across a hanging bridge that is made up of confiscated illegal fishing materials. As you traverse this elevated structure, you will realize the hard work these park rangers have done in protecting the island and its vast resources.
As you head back to your skiff boat, you may wonder if you can sketch, carve and leave your name in one of the rocks as your simple remembrance to this wonderful island. The answer is NO. If you are thinking of a good remembrance to the island, then taking a nice picture would be the perfect idea.
For more information about this 10-day Pacific adventure, you can read more here: www.visitcocosisland.com/cocos-island-costa-rica