Activities in Samara
Activities in Samara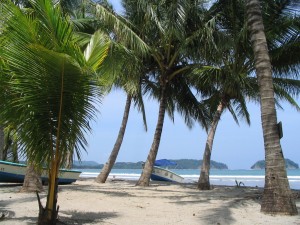 Samara is a tropical beach town located along the Pacific Coast of Costa Rica in Guanacaste Province by the Nicoya Peninsula. For many years it has been a popular destination for summertime holidays among both locals and tourists. Samara is very small with a population of only 1500 residents. Although it has a genuine Costa Rican ambiance, the locals belong to multiple ethnic groups including Americans, Canadians, Germans and Italians.
Holiday in Samara
Long before the city became popular internationally, Samara was a favorite 'weekend' spot among the locals. Many people own holiday homes in the town. Samara may be small but its natural beauty makes up for it. Additionally, its neighboring town, Carrillo, is just as beautiful and many tourists like to go there as well. Samara and its beach can be easily accessed by the three major international airports of Costa Rica. The city has a relaxing, laid back environment which helps to make foreigners feel at home. There are various facilities available in Samara such as supermarkets, hotels, lodges, hostels, bars, restaurants, banks, and clinics. In day time the city gives off a lazy and calming vibe which immediately changes into something more festive after the sunset. Travelers will find many fabulous night clubs and discos in the village. The fusion of long range of fine white sand beaches, spectacular greenery, azure ocean and numerous leisure and sport opportunities make Samara an absolutely great holiday point. Transportation service has rapidly developed in the last few years. People can take flights to Samara from airports in Liberia and San Jose. Public bus service is also available.
Explore the Pacific in Samara
Sportfishing, snorkeling, scuba diving, sailing and bird watching are the most favorite activities in Samara. Located about a mile away, Tico hamlet of Matapalo is the best snorkeling point found in Samara. The water clarity, depth and underwater wildlife are ideal for snorkeling and scuba diving. Explore the marine wonders of the Pacific and observe a plethora of creatures like whales, white reef sharks, morrish idol, barber fish, jurel, pargo, loro, morena, leatherback sea turtle, barracudas, manta rays, dolphins, eels, star fish, sea horses and lots of quaint rock formations and coral reef. There are many PADI associated diving center in Samara and they assure you a unique and excellent diving experience.
Sport fishing is a recreational sport played for pure pleasure. Get your tackle and gear ready, grab some bait and set out on to the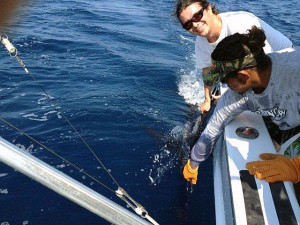 fishing expedition. Like many other beach towns in Costa Rica, Samara is a heaven for fishing enthusiasts offering the best blue water game fish. Have a fine time catching Yellow Fin Tuna, Black Fin Tuna, Blue Marlin, Black Marlin, Sailfish, Dolphin, Grouper, Snapper, Roosterfish, Snook, Dorado, Wahoo, Swordfish and numerous more! Enjoy the sublime beauty of the ocean while fishing for the best species! Tourists can either go with a local fisherman or join a tour with one of the many sportfishing charters. It won't matter if you are a seasoned fisherman or a newbie, sportfishing in Samara will turn out to be a fun experience. During your holiday in Playa Samara, don't miss the opportunity to go boating in the Pacific. Swimming, whale and dolphin watching, sportfishing and sunset cruise combined in one is truly an amazing adventure.
Samara