Ocotal Beach Resort
Ocotal Beach Resort is a four-star oceanfront luxury resort located on the northern Pacific coast of Costa Rica in Playas del Coco. A short distance away from the resort is a serene beach called Playa Ocotal which has an idyllic ambiance of a pristine beach, greenery on the background and a crystal clear ocean. The beach offers various aquatic sports such as snorkeling, diving, swimming and sportfishing. The resort is a four hour drive from Juan Santamaria International Airport and only thirty minutes away from Liberia's international airport. The resort is recognized for its eminent style, exceptionally good service and a comfortable environment. From the hotel, guests have fabulous views of the shimmering beach, azure ocean and the Papagayo Gulf! People who are looking for quiet and placating getaway with few touches of fun and adventures, Ocotal Beach Resort is a place to stay!
Accommodations at Ocotal Beach Resort
The resort features 12 bungalows, five suites, and 42 standard rooms. All the rooms yield superb oceanic views. They are furnished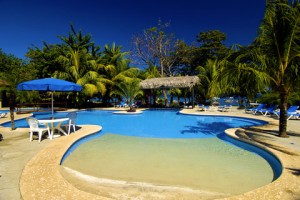 with either one or two queen beds or a single king size bed according to the preferences of the guests. Each room is equipped with air conditioner, ceiling fan, a television set with a cable, a telephone, a safety box, coffee maker, hair dryer, and a hot water supply! Moreover, there are private balconies and terraces offering sublime tropical panoramas. The suites have a luxury of a Jacuzzi, refrigerator, and a spacious living room. The resort provides room service. Guests can enjoy access to the private beach areas, swimming pool, and have food and beverages in the restaurant.
Sportfishing Adventures and So Much More!
For couples, Ocotal Beach Resort presents romantic honeymoon packages for newly weds and a wedding reception setup for those who wish to get married here. To the delight of any sport enthusiasts and nature lovers, the resort arranges all sorts of adventures and tours. Enjoy the great adventurous dive into the ocean, snorkel, catch fishes, go sailing, and so much more! Sportfishing enthusiasts will definitely fishing at Ocotal. Whether it is coastal fishing or deep sea fishing, anglers will have the perfect opportunity to catch plenty of marine game fish. The resort takes part in the nature protection program and encourages catch and release practice for bill fishes and non food species. Ocotal Beach Resort owns a few 32 ft sportfishing boats rigged with a flying bridge, shades, a fighting chair, diesel inboard engines, outriggers and downriggers. They have a fishing gear from Penn International which is an excellent company. Enjoy an outstanding fishing venture with Ocotal Beach Resort!
Amenities of Ocotal Beach Resort
Ocotal Beach Resort offers excellent accommodations, food, and a dedicated and diligent hotel staff. The resort provides their customers with following amenities:
Bar and Lounge, Beach, Business Center, Fitness Center, Complimentary Breakfast, Free High-Speed Internet, Free Parking, Restaurant, Room Service, Shuttle Bus Service, Suites, Swimming Pool and Wheelchair access.
At Ocotal Beach Resort, have a luxurious retreat in a midst of tropical ocean and jungles.
Contact Ocotal Beach Resort
Location: Playas del Coco, Costa Rica
Website: http://www.ocotalresort.com/
Phone Number: (506) 6700321 ext 261
Fax: (506) 6701122
Email: reservations@ocotalresort.com