Amberjack in Costa Rica
Yellowtail amberjack, also known as greater amberjack,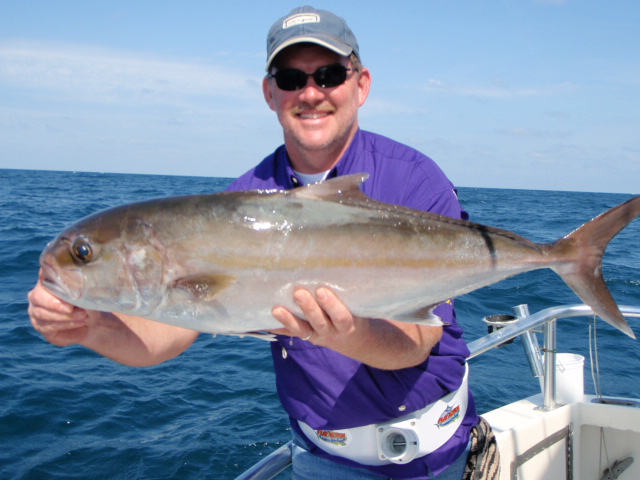 is a massive fish found in large numbers in Pacific and Indian Oceans. It has three sub species out of which the California yellowtail, or Seriola lalandi dorsalis, is most commonly seen in Costa Rica. Greater amberjack belongs to the species of ray finned fish of the family Carangidae. They have several other names such as fork tail, mossback, and white salmon. Sportfishing enthusiasts, seasoned anglers and professional sport fishermen from all over the world come to Costa Rica for a good dose of recreational and competitive fishing. The country has numerous fishing charters and resorts that arrange fishing expeditions to almost every town. Amberjack is often referred to as a fisherman's friend. If you are having no luck on your sportfishing trip, an amberjack will definitely make your day! It is a good fighter, makes a good catch and is quite delicious as well!
Description
Amberjack features dark stripes that extend from nose to the dorsal fins. Costa Rican greater amberjacks are known to be the largest of the jacks. Their size goes up to 40 pounds!
Where to Find in Costa Rica
They dwell and breed in offshore waters most of the year in conjunction with rocks, reef and wrecks. They are usually found at the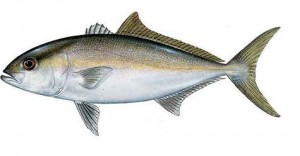 range of 20 to 75 meters. Greater amberjack in Costa Rica, can be found in southern part of Drake Bay, Golfito, Manuel Antonio and Quepos in the Central Pacific region, Guanacaste, Tamarindo, and in the Flamingo Bay.
Dietary Habits of Amberjack
The greater amberjack is a predacious fish. It is a carnivorous species and it feeds on a variety of fish, squids and crustaceans such as mackerel, sardines, anchovies, crab, and smelts. They usually like to hunt in deeper waters with a temperature preference of 18–24 °C.
Amberjack in Costa Rica
References