Sportfishing in Playa Flamingo
Playa Flamingo is one of the most beautiful beaches of Costa Rica. It is located in Guanacaste Province of the Nicoya Peninsula. A covey of unspoiled sun kissed beaches, crystal clear shores, and a scenic gathering of mountainous jungles on the backdrop make Flamingo an ideal place for vacations and retreats. The beach proffers an array of sport and leisure activities, plenty of accommodations ranging from luxury villas to budget friendly lodging, restaurants, sodas and an upbeat nightlife. It is sandwiched between the two beaches, Playa Potrero and Playa Brasilito and is also the only full service marina between Acapulco and Panama on the Central Pacific coast. There is no doubt that the gorgeous beach town, Flamingo, is perfect for all kinds of vacations.
Playa Flamingo – Sportfishing and Much More!
For deep sea and sport fishing, the water circling Playa Flamingo is considered to be the best. Species like blue, black and striped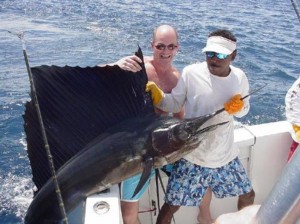 marlins, mahi mahi, different kinds of tuna, sail fish, swordfish, roosterfish, snappers, dorado, wahoo and numerous more are found in abundance offshore and inshore all year round. Moreover, an international sailfish tournament supported by Costa Rican Amateur Fishermen's Club is held every year in July! In Costa Rica, there are hundreds of sportfishing charters and most of them arrange tours to Flamingo for a great fishing experience. Guests can combine their recreational fishing trips with whale watching and sailing tours. How else can one spend a calming day floating on the ocean?
Other Water Activities..
Kayaking, snorkeling, scuba diving, surfing and sailing are few of the many aquatic sports possible in Flamingo. Whether you are new to it or a professional, diving and snorkeling in Costa Rican tropical waters are simply awesome. Water is very clear and alight which makes the underwater experience quite picturesque. Surfing, paddle boarding and sea kayaking are other kinds of fabulous adventures and are highly recommended!
Playa Flamingo – A Dream Vacation
Playa Flamingo is nearby some of the popular attractions such as Santa Rosa National Park, Rincon de la Vieja National Park, and Marino Las Baulas National Park. Other renowned towns like Arenal, Tamarindo, Monteverde, Liberia, Quepos and Manuel Antonio are a short drive away. There are various options for dining and entertainment in the district. After a day packed with fun activities, have a delicious meal and relax with a chilled drink on an oceanfront restaurant. The diners and sodas have a vast menu. From fresh Tico seafood to an Italian pizza and grilled burgers, guests will find many cuisines to their liking. Some of the recommended restaurants and bars are Coco Loco Beach Front Restaurant, Mary Sol's lounge, Mariner Inn, Monkey Bar, Amberes, and Maries. Travelers who are on a special respite will love Flamingo Beach Resort, Flamingo Marina Resort and El Sabanero Beach Hotel. However, there are many comfortable and sophisticated hotels and lodges which are more convenient. Be it a romantic retreat, a backpacker vacation, or a family holiday, Playa Flamingo won't disappoint you. Turn your dream into reality by visiting Playa Flamingo.
Playa Flamingo – Sportfishing and Much More!